The drive the first day was great. Light traffic, 4 police stops with one question where are we going and each one waved us on. The roads were really good, about 7 miles of slower roads on MX186 in Tabasco.
The military stop at the Palenque turn had just closed. at 3:15 PM. They were all jumping into their trucks and waved us on. A few chuckholes here and there but no traffic going through Villahermosa. We got to the Balneario-Recreativo El Gordo  N side KM158 at 5 PM, an 11 hour drive from our early morning start at sunrise, 6 AM.
The cars were pouring out of the water park (Balneario), Actually 6 PM would be a better time to arrive, they were all gone by then. They have fast wireless internet ask them for the password. Camping cost is 250 pesos per night. We didn't bother hooking up our electric. I remember last year it was without a ground and not high enough amperage to run a microwave.
Peggy put together a great spaghetti dinner with real Italian sausage we brought from home.
A large Toyhauler 5th wheel from Ontario came in after us. They said they got stopped driving through town. Big rigs are supposed to use the truck route, Periferico. They wouldn't pay the $100 bribe and asked for a ticket, so the cops let them go. NEVER PAY "the Bite", bribe.
This is the plan for Day 2 of our drive toward TX.
Villahermosa to Cerro Azul - Day 2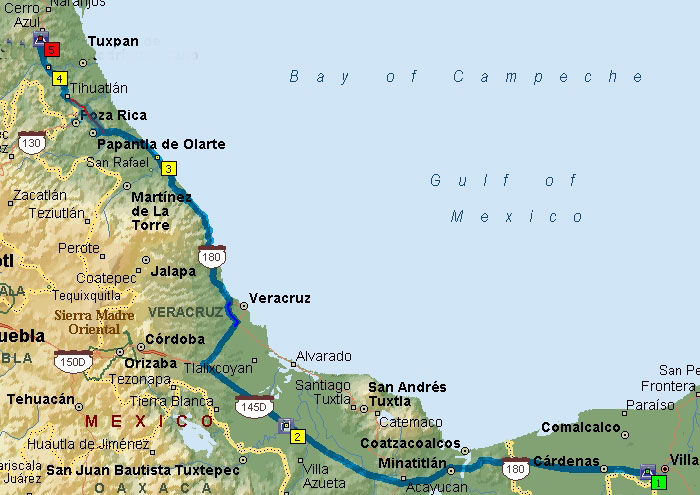 | | | | |
| --- | --- | --- | --- |
| City | City | Miles | Hours |
| Villahermosa | Acayucan | 140 | 2:50 |
| Acayucan | S of Veracruz | 145 | 3:00 |
| S of Veracruz | Emerald Coast | 100 | 3:00 |
| Emerald Coast | Cerro Azul | 100 | 2:45 |
| Totals | Day 2 | 485 | 11:20 |