And I feel like we gotta travel on. Well, as the song says we need to finally start heading toward the cold north. Not too fast though. On Sunday we will pull up stakes after 3 months on the beach at Xpu-Ha and start heading west, yes west for 3 days to get to the Texas border.
Xpu-Ha to Villahermosa - Day 1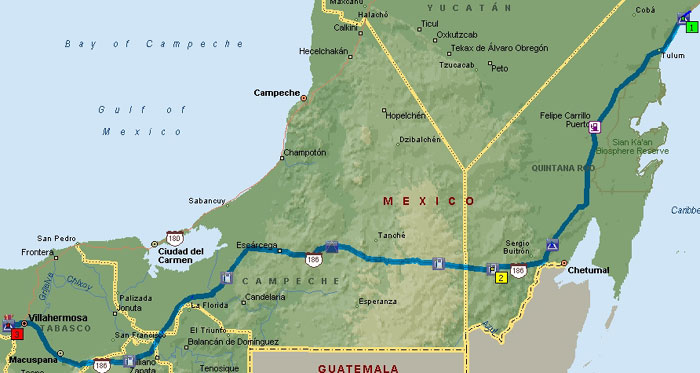 City
City
Miles
Hours
Xpu-Ha
Bacalar
150
3:30
Bacalar
Escarcega
175
3:45
Escarcega
MX186-MX199
(Palenque Turn)
120
2:45
MX186-MX199
Villahermosa Balneario
80
1:40
Totals
Day 1
525
11:40
It's a lot of driving but we expect it to be hot, so we would rather travel in a A/C vehicle than sitting in a hot Campground or Pemex (Gas Station) parking lot. We expect to drive only during the day and if we are delayed, we will just stop at a safe location for the night. On the west side of Villahermosa there is a balneario (swimming/water slide park) named Balneario-Recreativo El Gordo, it's on the North side on MX180 at KM 158. This should let us leave in the morning without driving through the big city.
These are the plans for all 3 days of Driving out of Mexico