We left the balneario campground in Villahermosa at 6:15 AM, it was just getting light. The traffic was light and there were no big delays. No military or police inspections, they just waved us through.
Seems like we stopped a lot for gas and my pesos are running low.Hope we have enough pesos to make it to the border to buy some cheap Texas gasoline.
It was another 11 hour day, a little light rain near Vera Cruz. A big surprise, they finished the last overpass on the MX180 bypass of Vera Cruz, but you still have to drive over the train tracks. There is a fairly new bypass around Cardel, it's marked Poza Rica. Saved driving through the slow intersection in town.
We got to the Condado Auto Hotel & campground just before 5 pm, after stopping to buy a liter of orange blossom honey in Alamo. There were hundreds of Topes today and we sure stirred up our cupboards and refrigerator.
There is no wireless here and we didn't try the electricity. Camping is 150 pesos/night. The Telcel Banda Ancha worked fine for the internet.
So here are our plans for Tuesday
Cerro Azul to Los Indios - Day 3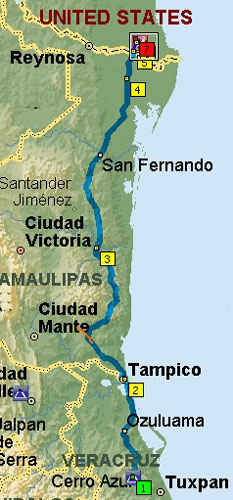 | | | | |
| --- | --- | --- | --- |
| City | City | Miles | Hours |
| Cerro Azul | S Tampico | 90 | 2:00 |
| S Tampico | Altamira | 45 | 1:15 |
| Altamira | MX83/81 Xicotencati turn | 57 | 1:05 |
| Xicotencati turn on MX-81 | To Ciudad Victoria-MX101/83 Interchange | 60 | 1:10 |
| MX101/83 Interchange | MX180/101 Intersection | 75 | 1:30 |
| MX180/101 Intersection | Los Indios | 120 | 2:15 |
| Los Indios | Harlingen | 15 | 0:45 |
| | | | |
| Cerro Azul | Harlingen | 462 | 10:00 |